Are you working to increase your client base along with your reputation as an expert? If you're hoping to work smarter and find ways to bring attention to your medical or legal practice, a blog is a perfect place to start. Let's look at how to write a professional blog for your business and why it's an essential piece of your marketing puzzle.
Why Start a Small Business Blog?
Writing a blog is one of the most powerful ways to gain the trust of your client base and other experts in your industry. When you share your expertise with others, they remember you as the one who has the answers.
Writing a regular blog brings more traffic to your site, increases your reputation as an expert, and drives you to the top of the results page in a google search. Sharing your expertise with others in a conversational way shows you are approachable and knowledgeable. 
Find a Platform
You'll need a domain name that reflects the purpose (or is the title) of your company. Between the paid and unpaid options to start a blog, WordPress offers the most options for the least cash outlay. 
Most likely, your business already has a website. You can usually easily add a blog post page to your current website setup. However, if you miss crucial features such as website SEO, optimization, security, and speed, you may want to reconsider your website platform. Without the proper platform, your blog will not get off the ground. Most people expect a website to load quickly with well-designed graphics and layout. They also expect the site to be secure.
Choosing Topics
You most likely have an area within your business that you enjoy discussing with others. If you enjoy or feel driven about a particular topic related to your business, that is an excellent place to start. If you find something interesting to elaborate on, it will be easier for you to sit down and write your blog each week. Wanting to communicate with others about your topic motivates you to publish regularly.
Perhaps you know everything there is to know about estate planning, and you are passionate about helping others understand the importance of getting started planning before unexpected illness happens. In this case, you might focus each blog on a different aspect of estate planning. 
Do Your Research
It's important to look online and see what is out there right now. Type in the kinds of things your clients might try when looking for answers about your area of expertise. If you want to focus on new legislation each week that affects estate planning, look for that online.
See if someone else is already doing what you want to do. If so, you may want to relook at your topic or narrow it down another way. You want to stand out as the expert in your field. 
Finding your niche makes it possible to be the top answer in a web search. In the example above, after writing for a few years, you could be the top result for the google search "estate planning legislation." Other lawyers may even end up looking to you for answers. 
Finding Keywords
Your future customers are typing in searches today, looking for answers. You need to know what they are searching for to be the answer they are looking for. The more relevant you are to your clients, the more likely you are to grow your reputation.
Use a keyword resource to ensure your topics are relevant to the searches online. Some helpful tools to find issues related to your field each week include:
Ahrefs is a paid resource that collects, processes, and stores large amounts of data, searching the "entire web 24/7 (much like search engines do) storing information about live websites — how they link to each other and what keywords they rank for in search results." They claim to be the "world's largest third-party database of search queries, with estimated monthly search volume and advanced keyword research metrics."
You can use a free version of this tool to "Get instant, raw search insights, direct from the minds of your customers." Answerthepublic helps you see what people are searching for so you can be the one they find.
You can add KeywordsEverywhere as an extension on Chrome or Firefox to help you see what keywords come up when looking at a page. 
Alphabet Soup: 
This method of finding a blog topic is easily accomplished with just your computer and google search box. 
Type the first part of a topic, such as "write a blog." Then type the letter "a" and see what shows up in the drop-down menu. Erase the letter "a" and put the letter "b." See what comes up in the automatic drop-down menu. Then use the letter "c." Continue on this way until you have used the letters in the alphabet or you find a topic.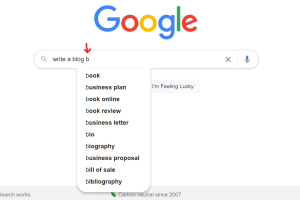 These drop-down options are the popular searches related to your topic. And using this method will help you brainstorm for future articles also.
Look Like a Professional
If you are an expert who can explain complicated concepts clearly with a conversational tone, you are an ideal blogger. However, your blog should also look professional. It is crucial to choose a professional-looking graphic page design that is suited to your topic. 
Be sure to use high-quality images that do not look grainy or unprofessional on your blog page. Always use professional stock photos or similar quality images licensed specifically for commercial use.
You can use Spark to size your images for your blog. Alternatively, you can size your pics for free in Pixlr.
Additional Features
For each blog you publish, include a featured image. You can use a high-quality 1200×628 pixel image in WordPress sites. Check with the platform you use to ensure you choose the correct size picture. If part of your image doesn't show up, your blog will not look professional. For a blog we published about Content Creation at Whoosh Agency, we included a 1200×628 image on our site.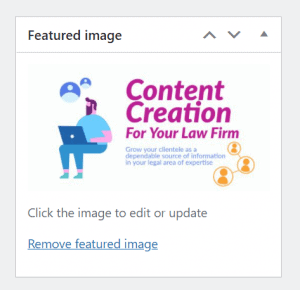 Also, incorporate a list of categories that you write about. Choose one category each time you write a blog post. This helps organize your posts so that if someone wants to search for a specific topic you've written about, they can.
You can also add tags to each post. Adding tags helps search engines go to your post for the correct keywords. Let's say you wrote about estate planning. You could use tags such as:
Estate plan

Estate planning

Wills

End of life plan

Raleigh

North Carolina

Trusts

Living trust

Living WIll

Irrevocable Trust

Medicaid Planning
For a blog about search engine optimization, we used these tags: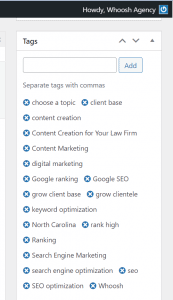 Don't Forget Social Posts
Social posts draw people into reading your blog and sharing with friends. Every time you create a blog, get in the habit of creating three social posts about it. Post them at different popular times of the day and watch the conversations begin on your Facebook messenger. 
Using the Facebook Business Suite, you can also post to your Instagram account while you post to Facebook. For images that post to both sites, use 1080×1080 pixels for best practice.
We Can Help
You may only need a bit of help finding the right platform and narrowing down your topic. Or you could need an entire marketing system built for you along with expertly written and published blogs. Either way, Whoosh Agency has you covered. 
We focus on marketing strategies that put you at the top of search results and in the spotlight for your chosen field. Whether you just need a quick consult or an entire marketing overhaul with a new website, we work with you to fill in any gaps in your current marketing strategy and place you in a position to succeed.