If you own a business or run a marketing strategy, you understand how important it is to get your name out there to grow your client base. You can start growth by creating a well-designed website for your business. However, if you stop there, you will never get the traffic you need to grow your business. After creating a website, the next step is writing a meta description and placing strategic keywords on each page and every blog. 
Let's look at how to optimize your website with a well-written meta description for each WordPress page and blog that includes the right keywords to help your company grow online exponentially.
The Bots Look for Your Keywords
Your meta description is an HTML tag. Along with your keywords and title, it forms part of your website's header code. Search engine optimization, or SEO, uses the meta description and other keyword tags to determine what your page is about.
Part of what gets your content seen online is what you communicate to the bots that crawl your website looking for content. Search engines look for metadata, keywords, and a meta description, to help determine your subject matter and who will want to read it. 
Your rank order in a search depends on what the bots think your pages are about. You can ensure the bots get it correct by writing a meta description that sums up your content using popular keywords.
What is a Meta Description Anyway?
The meta description is a written summary that has a two-fold purpose:
Informs the bots what your page is about 

Entices people to visit your page
If someone posts your page on Facebook, Twitter, Instagram, etc., people will see your meta description pop up along with a picture you choose to feature (unless you fill out the excerpt or OpenGraph with other summaries and images).
How Do I Write the Meta Description?
You'll want to look at the content of your page first. Let's look at an example using a blog page post.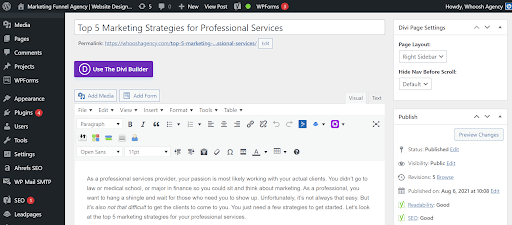 In the image above, you can see that the blog's title is "Top 5 Marketing Strategies for Professional Services." This title is not random. Before writing, research which topics are hot and likely to get potential client's attention. You can use a keyword search tool such as Keywords Everywhere or AhRefs to find a title that will work well for your business.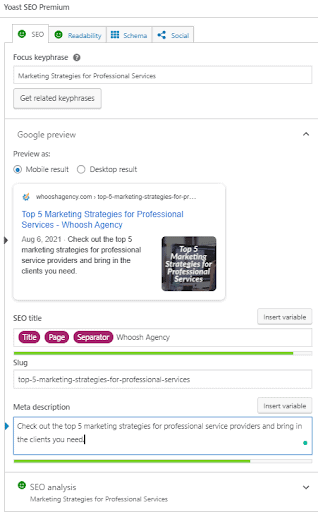 You'll also want to check your focus keyphrase

and ensure it is in line with your

title and meta description.

These three points of data should have

correlating keywords.

Check out the focus keyphrase

for the example blog to the right.
Starting to Write Your Meta Description
To start a meta description, copy text from your first paragraph and paste it into the meta description. Doing this is a good starting point. From here, whittle down the content in the meta description until it is 155 characters or less. Focus on the words that describe your blog or your page. Make sure to include your title words, keywords, and other metadata.
In the blog example, you can see that the first paragraph reads:
"As a professional services provider, your passion is most likely working with your actual clients. You didn't go to law or medical school, or major in finance so you could sit and think about marketing. As a professional, you want to hang a shingle and wait for those who need you to show up. Unfortunately, it's not always that easy. But it's also not that difficult to get the clients to come to you. You just need a few strategies to get started. Let's look at the top 5 marketing strategies for your professional services."
After cutting the content to 155 or fewer characters, the meta description still includes the title, slug, and focus keyphrase. The meta description for this blog now reads:
"Check out the top 5 marketing strategies for professional service providers and bring in the clients you need."
This meta description does not entirely use up the 155 characters. We could add a few more words to truly optimize the meta description.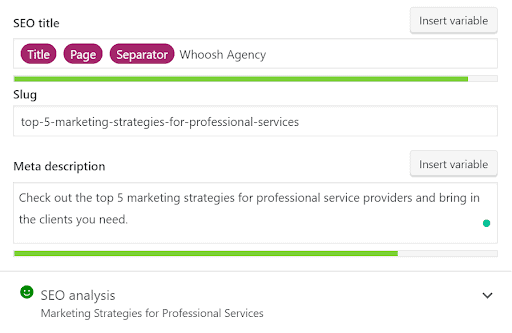 How Will I Know If the Meta Description is Not Good?
Using a tool such as Yoast SEO can alert you whether your meta description is too long or does not include the keywords it needs. Adding more words to the meta description results in Yoast SEO giving an orange instead of a green rating for the description. It still ranks the overall SEO analysis as good, though.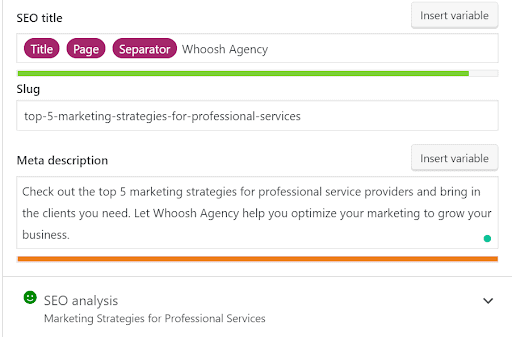 However, if you take out the title and focus keyphrase and don't use any keywords, Yoast might alert you that your meta description is not up to par. Your overall SEO rating for your page may plummet. Note that the smiley face under the meta description turned orange.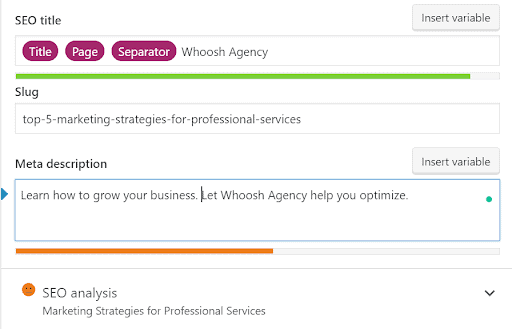 Keeping your page razor-sharp-focused on a topic gives the bots clear information about what readers may expect. Use consistent keywords throughout your page, meta description, title, slug, and focus keyphrase to optimize your site.
Time For Website Optimization
Website optimization does not happen overnight. It is a process that each business goes through while honing its services and offerings to clients. Working a bit each week on keeping your website up to date with focused meta tags and clear meta descriptions can keep your business growing and thriving as new clients discover your content and seek you out. 
We Can Help
If you need help getting started, contact us at Whoosh Agency. We bring the best in digital marketing strategy to your business with:
Attention to best website optimization practices

Engaging content production (blogs, social media, web page copy)

Evergreen marketing funnels

Designing client-centered websites that stand out from the competition
With 20 years of commercial experience, we know just how to grow your business and bring in new clients. Contact us today for a free consultation and find out how we can help you.