As a professional, your presence online reflects your commitment to provide expert-level advice to your clients. The wrong tone or message online could sour your reputation or even lead to legal action. However, you can use online tools to easily let potential clients know where you are, who you are, and how to reach you. Facebook and its connected services, including Instagram, are an excellent starting point if you want to let others know about your business. Let's look at how to use Facebook for business. 
Create a Facebook Business Page
The first step to use Facebook for your business is creating your business profile page on Facebook. Creating a page is easy and includes your business name and description. Be careful naming your page. If you can't use the name of your business, choose something easy to remember that is the same across all of your branded content.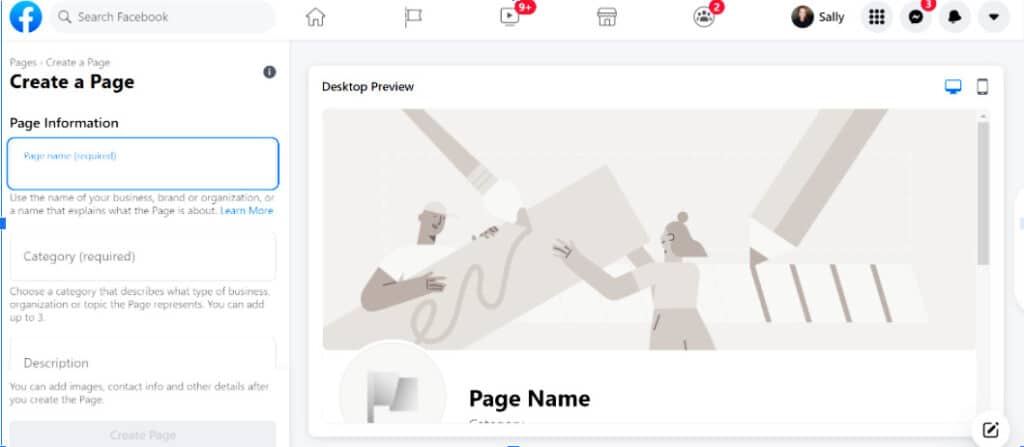 About Section
Fill out the "About" section with details about what you do for clients. As you fill in the information on the left, your page image on the right populates with your new verbiage.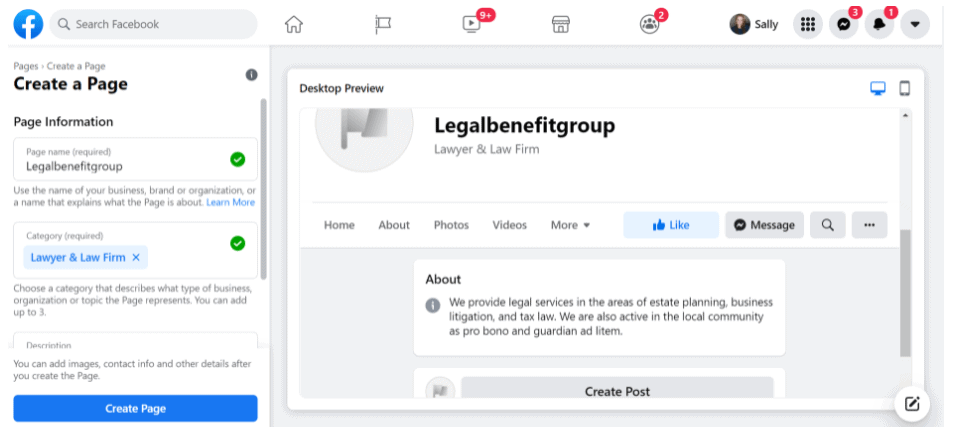 Click on the blue button "Create Page" at the bottom left, and your page is ready to customize for your business. 
Profile Picture
Your business logo is a good choice for your profile pic. If you are the sole professional, you could also use your face. Click on "Add Profile Picure" on the bottom left to choose your image.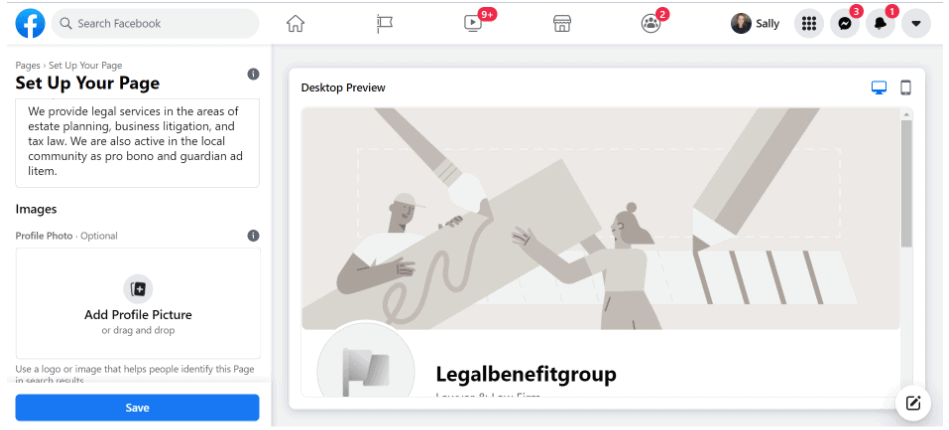 Cover Photo
Choosing your cover photo is next. Selecting a professional quality image is crucial. Scroll down on the left and select your cover photo.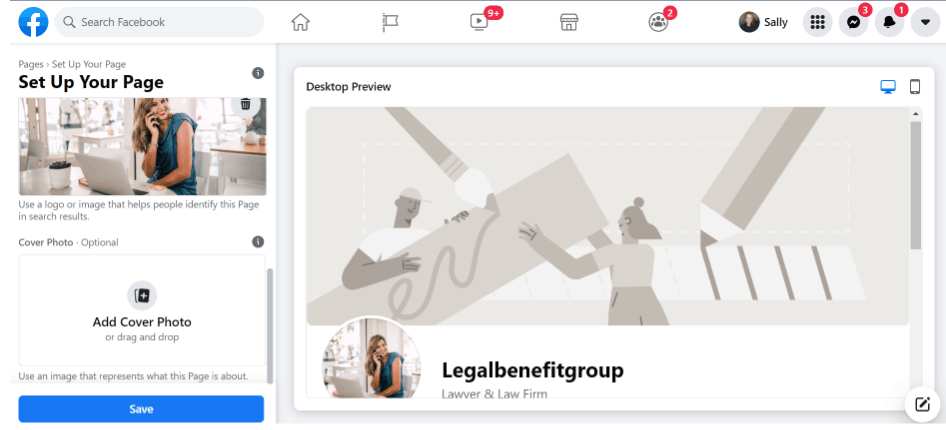 Ensure that the image is not grainy or pixelated. You want to give a good impression with plenty of light and an angle pleasing to the eye. An outside photo of your place of business taken in the evening light usually works best here. You can also choose a unique shot of an object or building or a cityscape.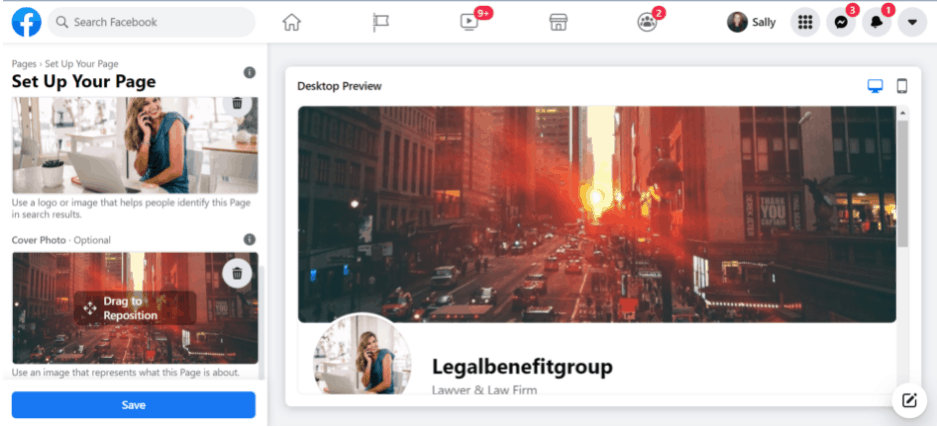 Your cover photo dimensions need to be 820×312. If you need to edit a photo, an excellent free tool is Pixlr. You can also find free professional-quality free images to use at Pixabay.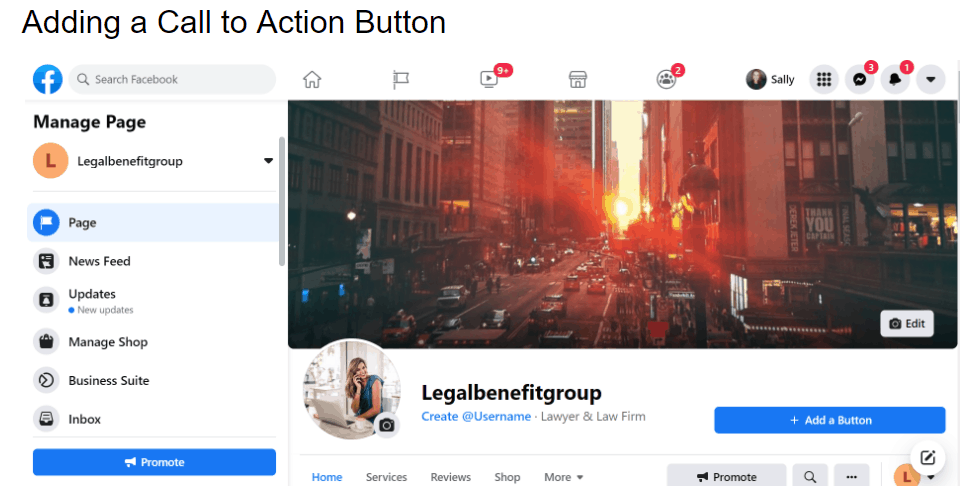 Click the blue "Save" button to save your page and see how it looks.
Adding a Call to Action Button
At the top of your Business page, you can add a call to action. Use this feature to set up a link so that when visitors click, watch a video, they visit your website, or call your place of business when visitors click.  
Simply click the blue "Add a Button" and choose from the menu that appears.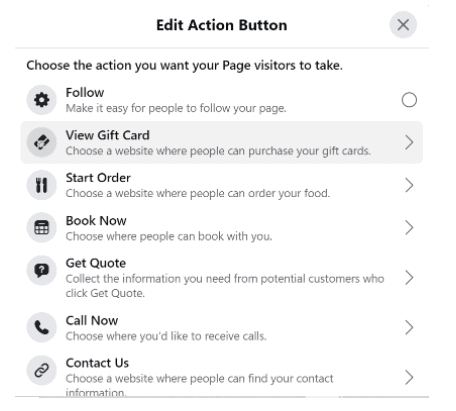 Creating a Username
You can also create your username to make it easier for others to find you.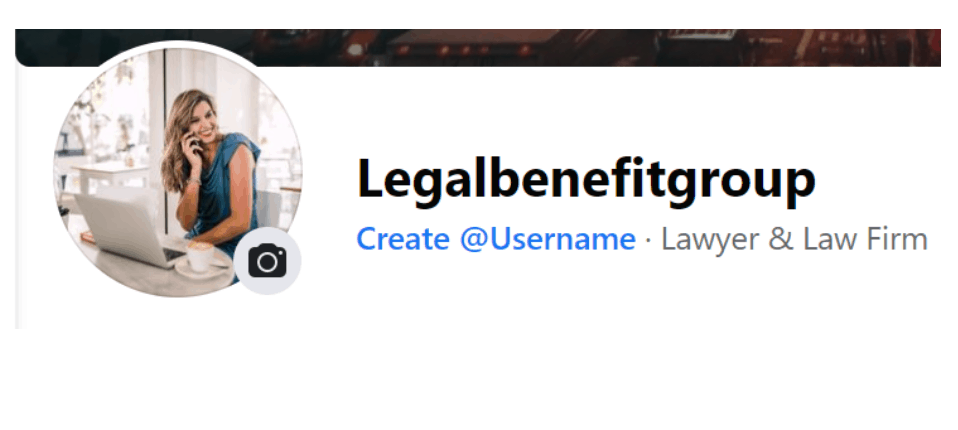 Keep in mind that usernames:
Must be unique

Only contain alphanumeric characters (A–Z, 0–9) and periods ("."). 

Can't contain generic terms or extensions (.com, .net).

Usernames must be at least five characters long.

Periods (".") and capitalization can't be used to differentiate usernames. 

Usernames shouldn't impersonate someone else.
Click on the blue "Create@Username" to get started. Once you've chosen a name that meets the qualifications listed above, you'll see a box letting you know that the username you selected is now yours.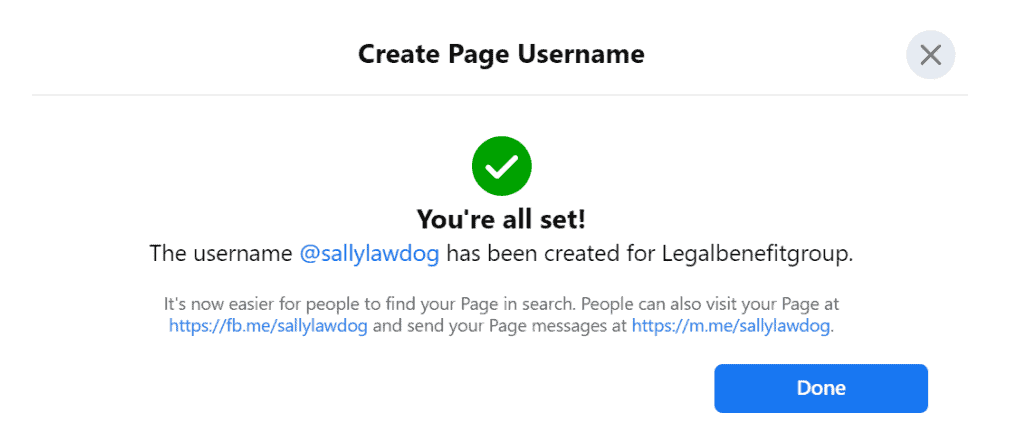 Facebook Business Suite
Once you've set up your business page, you can link your personal profile with Facebook Business Suite to manage your Facebook and Instagram in one place. It's free and makes it simple to manage your business presence.
Using Facebook Business Suite lets you see your updates, recent posts and ads, and insights. You can also create a post or promote your business from here. New notifications, messages, and comments for your Facebook Page, Instagram, and Messenger account all show up here. 
A great tool to set up here is Automated Responses to send to potential clients who contact you through Messenger. You can let them know that you will get back to them as soon as possible. You can also set up pre-programmed messages to respond to questions people commonly ask when they call.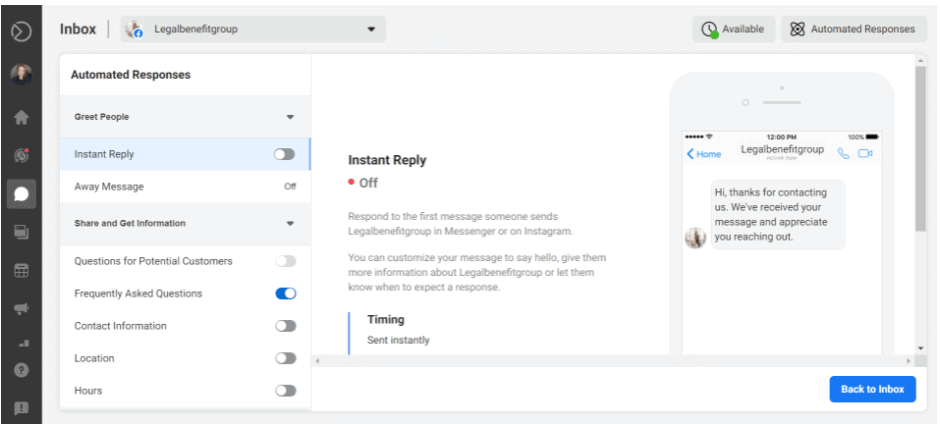 Creating Posts and Stories
You can publish or schedule new posts for your Facebook Page and Instagram account in your Business Suite. It is simple to set up a post that looks good on both Instagram and Facebook and post to both places simultaneously. 
A good post has an image pleasing to the eye with up to 8 words on the image. You can use a tool like Spark from Adobe or Canva to create professional-looking ads and pictures. The size that works best for posting to both platforms is 1080×1080. Facebook also looks good with images that are 1200×628.
In the post's written section, get your message across and then add a link to a service page or a blog. For every service page on your site, make multiple posts that you cycle through each week.
A good posting schedule is one post per day. However, your content each day should vary. Within each week, a typical schedule could include: 
Three posts linking to a written blog post or other interesting and educational content on your page

One post linking to a page on your site where you offer a service 

One post linking to other interesting content at another interesting site
Facebook Ads
When you set up a commerce account, you can create ads. Facebook ads are different from posts because you pay Facebook to promote this content. 
The reality is that many of your posts will not be seen unless someone visits your page and looks through your content. However, Facebook ads are targeted and pop up on the pages of those who most need your services. Boosting a post is similar to an ad because you also pay for Facebook to promote the content to your chosen audience.
Growing your business with Facebook requires creating posts and keeping your website up to date with new content. However, the most crucial part of marketing with Facebook is developing new ads that promote your website. Traffic to your website helps convert a passerby to a client. 
Know How You Are Doing
With the Business Suite, you can watch how your business ads perform with 
Trends

Activity on the content you share

Information about your audience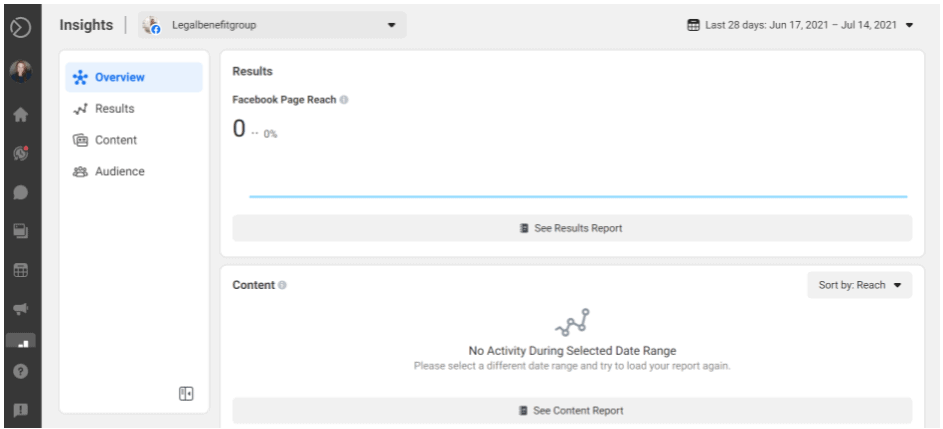 When you use the desktop version of Business Suite, you can also take advantage of the 
Ads Manager

Business Settings

Page Settings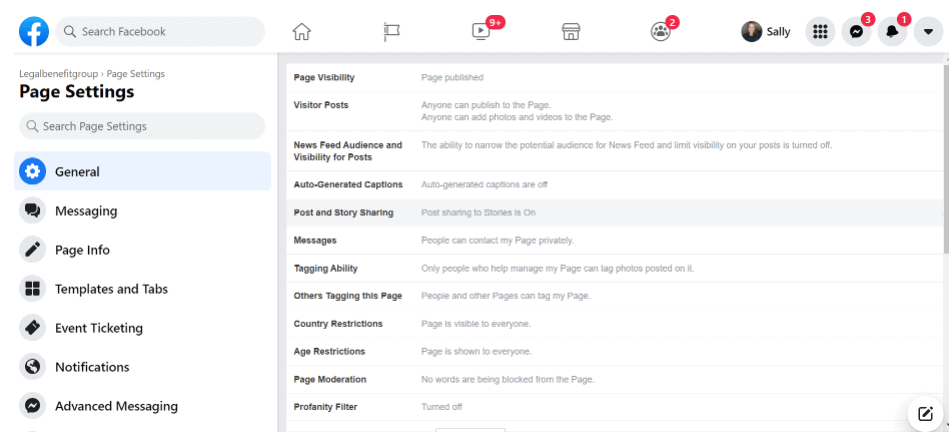 Page settings let you add information to your page. It is essential to keep all of your information up to date and well-written in the settings sections. Using the Ads Manager provided by Facebook is the best way to manage your ads.
Taking advantage of all Facebook has to offer can help you grow your business. Targeted ads, regular posting that leads back to your website, and informational content designed to give knowledge to your audience work together to create a level of trust in you as the expert. Awareness of your business grows as you regularly post and use Facebook Business Suite to create targeted ads. Engagement with your potential clients with messenger lets you connect with potential clients. Your level of conversion grows as others look to you for answers when they need help.
We Can Help
If you have a professional business you'd like to grow, our professional marketing services team can help. At Whoosh Agency, our attention to trends in the digital realm keeps you at the top of search results and places your business in front of your targeted audience in search engines. We also work with you to write professional blogs for legal, medical, and banking industries with careful attention to detail. We strategize with you to plan for the most marketing impact, whether you only need a quick consult or an entire digital makeover to reach potential customers.